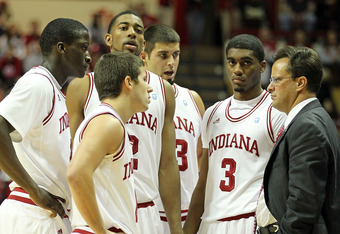 The Big Ten was supposed to be the best college basketball conference in the country this season. With five teams in the top 25, including three in the top eight, the Big Ten was projected to be this year's Big East.
Needless to say, this year's Big East has been…the Big East. Although the Big Ten still boasts three teams in the top 11, those are the only conference teams in the top 25.
What's the reason for this? Michigan State has gone on an absolute freefall that cannot be attributed completely to the dismissal of Korie Lucious.
People have finally realized that Illinois still has the same underachieving team that missed the tournament last year. And Northwestern, who was finally supposed to make the tournament for the first time (the most regurgitated story in the Big Ten), is not having success jacking up threes in place of a real offense.

Having said that, there are still some teams in the Big Ten that have what it takes to dance like Lionel Ritchie in March.
Indiana
After showing glimpses of contending with the big boys (wins against No. 21 Illinois and No. 20 Minnesota), the Hoosiers still do not appear ready to take the next step. Junior guard Verdell Jones III and sophomore forward Christian Watford may not be 100 percent for the rest of the season, which will hurt their ability to close out tight games.
There is no doubt that this team can compete with anybody in Assembly Hall, but still cannot get over its road woes. IU has only one Big Ten road win in the Tom Crean era including none this season. That is what will ultimately keep the Hoosiers from reaching the NIT.
Postseason: CBI
Illinois
Two months ago, Illinois was No. 12 in the AP poll and looking to solidify itself as a possible Final Four candidate. The Illini had a couple of solid wins against North Carolina and Gonzaga, and lost in overtime to Texas.
Since then, Illinois has proven that they cannot win on the road. For a team with four seniors in the starting lineup, it is alarming to see such bad decision making down the stretch, which has been the reality for this team.
The Fighting Illini displayed their inconsistency in a loss to Illinois-Chicago, who is currently last place in the Horizon League. They've lost at Penn State, Indiana and Northwestern but might have salvaged their can't-win-on-the-road ways by knocking off Minnesota in The Barn.
Postseason: Last four into the NCAA Tournament
Iowa
If the Hawkeyes got to play against IU every game, they would be a No. 1 seed in the NCAA Tournament. Much to their dismay, they do not get the advantage of doing that. Besides IU and a random 20-point spanking against Michigan State, the Big Ten has not been very nice to Iowa.
The Hawkeyes do not have a win against a ranked foe this season, they lost five non-conference games and they are currently sleeping in the basement of the Big Ten. All signs point to Iowa watching March from the cornfields.
Postseason: None
Northwestern
An 8-0 start ignited the discussion of Northwestern making it to the NCAA Tournament for the first time in school history. Playing basketball in a real conference halted those discussions.
Without any inside presence (Toni Kukoc wannabe Luka Mirkovic does not count), the Princeton-style offense has been the only way Northwestern can score points. They bomb threes all game, but shoot a mere 37.8 percent.
Yes, it keeps them in games that they don't deserve to be in (Ohio State without John Shurna). But it also keeps them from having any sort of consistency. Which is why they only have four Big Ten wins.
Postseason: CBI
Ohio State
The Ohio State University should still be No. 1 in the country. There is not a team in America that could have gone to the Kohl Center and knocked off Wisconsin last Saturday. Kansas lost at home, and Texas has three losses, so it makes no sense that the Buckeyes trail both teams.
While the nation may not be giving this team the love it deserves, I will. The Buckeyes have the best post player in the country in Jared Sullinger, a veteran core that has more experience than any team in college basketball and the resume to boot. No questions asked — the Buckeyes will roll into the tourney with a No. 1 seed.
Postseason: Final Four berth
Michigan State
Big tree fall hard, right? All Michigan State has done since being ranked No. 2 to start the year is drop. The Spartans had one of the toughest non-conference schedules in the nation (Duke, UConn, Texas, Syracuse, Washington) but the losses rolled over into Big Ten play.
Nobody could have predicted that the Spartans would be under .500 in Big Ten play in mid-February. If the postseason were to start today, Sparty would be hosting an NIT game. But Tom Izzo will not let his team fade off into the abyss.
Too many times we've seen Izzo lead his group out of the storm, and this year will be no exception. Look for this team to rattle off a slew of wins and bolster its resume in the Big Ten Tournament.
Postseason: NCAA Tournament
Michigan
Try and figure out this team. Through the Wolverines' first eight conference games, they were 1-7 and appeared to be heading nowhere fast. Since that slow start, the Wolverines have won five out of their last six, with their only loss coming at Ohio State. Tim Hardaway Jr. looks like a different player and has become an assassin from beyond the arc.
But let's take a closer look at this stretch. The five wins came against Michigan, Iowa, Penn State, Northwestern and Indiana. That's not exactly the cream of the crop. Although this team has made its season respectable, don't count on this run bumping Michigan into the NCAA tourney.
Postseason: NIT
Wisconsin
Why is it that every season, this team gets no preseason love?
Because on paper, Wisconsin does not bring in the stud recruits and does not boast a crop of NBA talent. But find me a guy that does more with less than what Bo Ryan does year in and year out. Every year, this team climbs up the rankings and solidifies a spot in the top 15.
People need to stop doubting Ryan's ability because over the past five seasons, few have been as successful as the Badgers, especially at the Kohl Center. Their win over the undefeated Buckeyes showed why they are a force to be reckoned with come March. Wisconsin's half court offense can take a more talented team completely out of their game, much like it did against Ohio State. Look for the Badgers to continue that in March.
Postseason: Elite Eight
Penn State
The Nittany Lions have raised a few eyebrows around the Big Ten this season. Unlike in years past, senior guard Talor Battle is not the only one that can score. Battle has gotten some scoring help from fellow seniors Jeff Brooks and David Jackson.
With three wins over ranked foes, the Nittany Lions have put themselves on the bubble. A win at Ohio State would have been a huge selling point to the selection committee but that did not happen. Penn State lacks that signature win, which will ultimately keep it from a spot in the tourney.
Postseason: NIT
Minnesota
The Golden Gophers' record is the exact reason why coaches schedule a weak non-conference slate. At 6-7 in the Big Ten, Minnesota is tied with Michigan, Michigan State and Penn State.
But because the Gophers will likely be cruising into March with 20 wins, they will be awfully hard to keep out of the tournament. They were ranked most of the year but four straight Big Ten losses ended that. This team is too talented and too well coached to miss the NCAAs. Also, don't be surprised if this team makes a run in the Big Ten Tournament like it did last year.
Postseason: NCAA Tournament
Purdue
One has to be impressed with how this team has responded without Robbie Hummel. Seniors E'Twaun Moore and JaJuan Johnson have been arguably the best duo in the country in Hummel's absence.
Unfortunately for Purdue fans, this team would have been in the national title hunt with Hummel healthy. With Moore's recent inconsistency and lack of a third scorer, it is hard to pencil Purdue anywhere beyond the Sweet 16. Ultimately, people will look back on this as the season of "what if?" for the Boilermakers.
Postseason: Sweet 16